What is this place? – A free resource for collecting the AK-47 and other Kalashnikov Rifles
What are we selling? – Nothing, this is just a lot of free information, supported by a few ads & links.. enjoy it and please give us some feedback so we can continue to improve it
Why did we build this website? – We are website guys who like to collect, research and build AK47 and Kalashnikov Rifles, this is our online notes, diary and photo album.
AK47 parts
AK 47 Flat Bending Jigs
Receiver Flats
Rivet Tools
Rivets
922r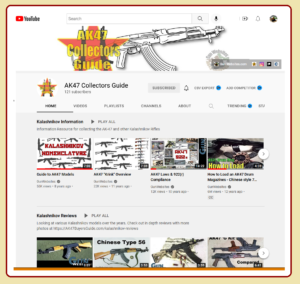 https://www.youtube.com/c/AK47CollectorsGuide

How to build an AK47 ?:
No amount of explanation
can replace experience.
We've broken down the assembly of a US made AK47 into 12 steps that we will illustrate with text and images here. Some videos are also available Choose a Parts Kit, AK47 Parts Kits Price List

Is it Legal?:
Question: Is it legal to assemble a firearm from commercially available parts kits that can be purchased via internet or shotgun news?
Answer = YES.
Take a look at what the ATF (BATF&E) says about it, they enforce the laws

How?:
#1 Get an idea of what is involved and the costs
#2 Check out the Parts Kits available
#3 Learn the AK47 building methods, choose one, and gather the tools needed
#4 Buy an AK47 Parts Kit, Receiver, Trigger Parts, Rivets and sometimes a barrel
#5 Walk through the steps, to ensure you have gathered all the tools and parts needed

Tools: There are a few simple, and relatively low cost tools needed to build, repair and maintain the Kalashnikov rifle. We take a look at each tool an AK builder might choose

Parts: The Kalashnikov is a simple yet efficient machine comprised of relatively few parts. We talk a look at the parts of the AK47, AKM and AK74 as well as the legal, financial, collectable and quality differences between them

Origins: The Kalashnikov is the undisputed most produced firearm on the plant throughout all of time. As a result, the AK47, AKM and AK74 rifles have been made all over the world by official manufacturers, re-manufacturers, satellite companies, home builders, insurgents, freedom fighters, dictators and other sources too numerous to list