Since no one in the US has the same equipment they use in Russia or Europe, US builders have developed multiple methods of building their US made AK47s.
Keep in mind all information and photos are for informational use, our instructions are not an attempt to include every aspect of building a safe rifle.
No amount of explanation can replace experience.
We've broken down the assembly of a US made AK47 into 12 steps that we will illustrate with text and images here. Some videos are also available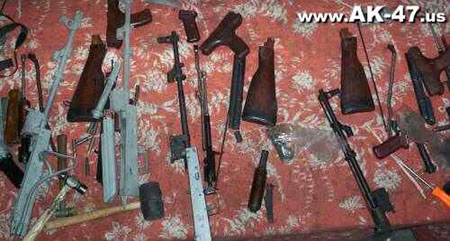 Choosing a AK47 Parts Kit
Taking apart the AK47 Parts Kit
Folding the US AK47 receiver from a flat
Setting rails in place, support pin, drilling holes
Removing the barrel
Installing trunions into the US AK47 receiver
Installing the trigger guard & magazine latch
Installing the barrel
Installing the Trigger Group
Troubleshooting and Test firing
Finishing the AK47
Final assembly